It's the weekend, y'all! And I'm exhausted!
It was a marathon week of playing catch-up after last weekend's bout with mastitis. I worked, I shopped, I cleaned, I feted DH's birthday, and yesterday I mailed off a small mountain of Christmas cards. WHEW.
Of course I am wishy-washy and couldn't decide on just one card design, so I ordered a couple– one folded, and one flat. I usually use Shutterfly because I like being able to use multiple pictures and customize the text inside. Here's the end product: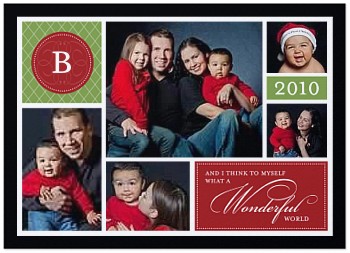 With Love Chartreuse Christmas 5×7 folded card
I liked the design and color scheme; loved the fact that it was a folded card with an additional photo and text inside. The price, at $1.25 per card, was fair. My only objection was the finish. I was given a choice of matte or glossy, ordered some of each, and wasn't blown away by either. Something about the look and feel of it just didn't feel high-quality, although the cardstock was decently thick and the colors were nice.
Then I received an offer from Minted, a competing company, for a free order of 25 holiday photo cards. I remembered receiving a gorgeous card from one of DH's wealthy business associates last Christmas, an actual mini photo book, and it was by Minted. So I figured what the heck, and placed an order.
The interface wasn't quite as intuitive or user-friendly as Shutterfly's, and production took considerably longer, as I had to wait for a designer to send me a proof to approve. And the price, at $2.88 per flat, one-sided card, was obviously much higher than Shutterfly.
But the cards? Are gorgeous. The cardstock is thick with a lovely texture. The colors are vibrant. The designs are chic and understated. They just look and feel luxe, which I guess makes sense given their higher price.

I will use Minted again for special occasions, and will continue to use Shutterfly for everyday products, like their photo calendars. Each year I give one to my parents that's chock-full of grandkid photos, and they love it.
Who do you order your holiday cards from? Are you happy with the price and quality? Do you take special "holiday card" photos or use candids?
Please use this thread to post your holiday photos and cards!
What are you up to this weekend? Chat away!