I love getting mail, so I love Christmas cards. I like to make them, and like to mail them, mainly because I love getting the 75-100 cards that tend to come in return. I take hundreds of pictures, poke my children into cute little color coordinating outfits, and then create them, order them and send them. Many of you might have actually received them in the mail.
But you would not BELIEVE the cards I just picked up at Walgreens.
(More below the fold)
See, here is my card:

(Click to enlarge)
It is a simple family photo, picture of the kids outdoors, and a picture of Portland (that I took off of the side of the freeway), and that to remind our family that we have chosen to live here, and like it here. It is similar to our last card, and nothing terribly special or out of the ordinary.
Here's the most amazing card I've ever seen. My baby brother's first Christmas card ever: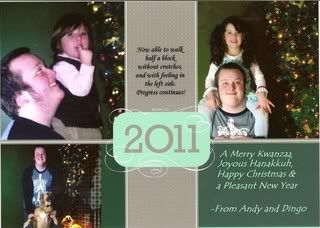 (Click to enlarge)
He's lifting Julian up to play with the silly upside down Christmas tree, and showing off the shirt I gave him for Christmas in that pose with his dog. And the picture with Rory? He picked her up and put her up on his shoulders all by himself (for the first time in over two years), after an hour of physical therapy.
Merry Christmas to you all, and I hope that 2011 lets me write to you all more often!